Annual Oration in Radiation Oncology Presented Today
Prostate Cancer Focus of Lecture
Colleen A. Lawton, MD, will present the 2016 Annual Oration in Radiation Oncology, "Prostate Cancer: Improving the Flow of Research," today in the Arie Crown Theater.
As with breast cancer for women, prostate cancer for men is the second-leading cause of cancer death in the U.S. This fact alone should cause nationwide concern and result in a push for improved screening and treatment for men plagued with this disease, Dr. Lawton said.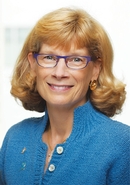 For example, over the past three decades, we have seen screening with prostate-specific antigen (PSA) come and go, and treatment for localized disease improve — but at a relative snail's pace, Dr. Lawton said. Treatment for locally advanced disease has seen progress, but the tempo is generally sluggish and adoption of the advances not universal. Recently there has been a large influx of treatment options for metastatic patients, which is progress, but in the end these patients will likely die of their disease, she says.
In her lecture, Dr. Lawton will review what radiologists have learned from prostate cancer research over the past three decades, including a review of the research on imaging for accurate staging along with research on screening and treatment options.
Dr. Lawton is professor and vice chair in the Department of Radiation Oncology and the associate director of the Radiation Oncology Medical Residency Program at the Medical College of Wisconsin in Milwaukee. She is also director of clinical operations in radiation oncology at Froedtert Memorial Lutheran Hospital & Medical College Clinical Cancer Center.
Dr. Lawton was one of the original faculty for the RSNA Bolstering Oncoradiologic and Oncoradiotherapeutic Skills for Tomorrow (BOOST) Program. She has also served on the RSNA Refresher Course Committee and as a member of the RSNA Scientific Program Committee Radiation Oncology Subcommittee.