RSNA Introduces 3-D Printing Special Interest Group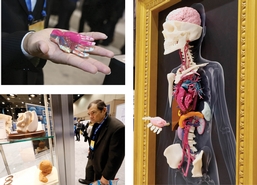 In response to breakthrough 3-D printing technology and its implications for radiology, RSNA is proud to introduce a new 3-D Special Interest Group (SIG) to promote the highest quality 3-D printing for medical applications via education, research and collaboration.
The SIG, chaired by Frank J. Rybicki, MD, PhD, will focus on maintaining a prominent role for radiologists in this diverse and growing specialty. The group will also seek to provide physicians and allied health scientists with optimized education and research programs.
"Among the goals of the SIG are to include and help define leaders in 3-D printing and act as ambassadors of our growing field for RSNA. The SIG is designed to be a valuable resource for medical 3-D printing, connecting our members in education, sharing best practices to formalize guidelines, exchanging cutting edge techniques and technologies in the field, and serving as a forum to share our successes and collaborate on solving our challenges," Dr. Rybicki said.
RSNA members in good standing may simply call the RSNA Membership Department to add 3-D Printing SIG participation to their membership for a fee of $40 per year.
Current RSNA membership is required to join the 3-D Printing SIG. Please call the Membership Department at 1-877-776-2636 to learn more or apply online at RSNA.org/Apply.
Learn more about the group at RSNA.org/3D-Printing-SIG.