New Horizons Lecture Dedicated to Gerald D. Dodd Jr., MD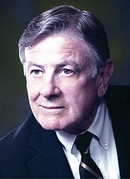 The New Horizons Lecture was dedicated to the memory of Gerald D. Dodd Jr., MD, a revered leader in the field of diagnostic radiology whose efforts to standardize mammography as a diagnostic tool earned him international acclaim.
Dr. Dodd grew up in New Jersey and attended Lafayette College in Easton, Pennsylvania with plans to study medicine. World War II interrupted his undergraduate studies when he joined the U.S. Navy as a hospital corpsman. After the war, he returned to Lafayette College and graduated in 1945. He went on to receive his medical degree from Thomas Jefferson Medical College in Philadelphia where he also completed his residency.
Dr. Dodd served in the U.S. Air Force during the Korean Conflict, rising to the rank of captain and serving as chief of radiology at Mitchell Air Force Base. He began his academic career as an assistant professor at Thomas Jefferson Medical College. After 14 years, he left to become professor and the first chairman of the newly formed Department of Diagnostic Radiology at the M.D. Anderson Cancer Center. Over the next 25 years, he distinguished himself as a leader in diagnostic radiology and built the department into an internationally recognized cancer center.
His work to standardize the use of mammography for the detection and diagnosis of breast cancer had international impact and earned him worldwide recognition. Among the many awards bestowed upon Dr. Dodd were the gold medals of RSNA, the American College of Radiology and American Roentgen Ray Society, as well as the Presidential Medal of the American Cancer Society.
Dr. Dodd passed away September 25, 2015, at 92.