Genomics Research Captures the Margulis Award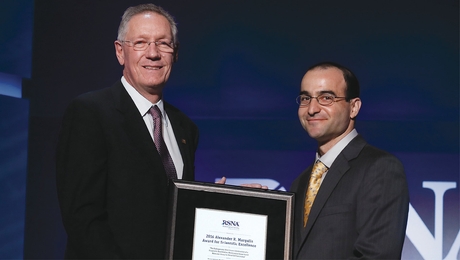 Neema Jamshidi, MD, PhD and colleagues received the award for their research, "The Radiogenomic Risk Score: Construction of a Prognostic Quantitative, Noninvasive Image-based Molecular Assay for Renal Cell Carcinoma," published in the October 2015 issue of Radiology. The annual award recognizes the best original scientific article published in Radiology.
Working with a team of researchers, Dr. Jamshidi, a clinical instructor in the Department of Radiological Sciences, David Geffen School of Medicine at UCLA, has developed a radiogenomic risk score (RRS) that bridges the gap between quantitative tissue-based molecular data, clinical imaging findings and clinical phenotypes for renal cell carcinoma. The methodology applied to develop the RRS could have useful applications for detecting and tracking other types of cancer and potentially other diseases as well.
"It's really a great honor and total surprise," Dr. Jamshidi said. "I am so thankful that Radiology editors recognized our study, as it took many people multiple years to see the results of our research."
The award is named for Alexander R. Margulis, MD, a distinguished investigator and inspiring visionary in the science of medical imaging. Copies of the award-winning article are available in the Membership & Resources area in the Connections Center. The Radiology study is available at RSNA.org/Radiology.