Telerobotic Ultrasound System May Improve Access to Care in Underserved Areas
The use of a telerobotic ultrasound (US) system allows sonographers and radiologists to perform US exams remotely with minimal training and set-up. The approach may provide an opportunity to establish remote US clinics in areas lacking skilled sonographers and radiologists.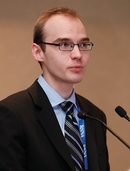 "Telerobotic sonography may facilitate routine studies, after-hours sonography for emergent cases, or access to subspecialized sonography which would otherwise not be available," said Scott J. Adams, a medical student at the University of Saskatchewan College of Medicine.
In an initial study, Adams and his team assessed the ability of the system to generate diagnostic-quality images. In addition, they sought to determine whether the method was acceptable to patients and sonographers.
Using a standardized abdominal imaging protocol with a group of 18 patients, they first performed conventional sonography. Then, they repeated the exams using telerobotic sonography. Patients in the imaging clinic were scanned remotely by a sonographer communicating with a patient-site assistant via a videoconferencing system and a non-dedicated internet connection between the two sites.
The patient-site assistant guided gross movements of the robotic arm based on instructions from the sonographer 2.75km (1.7 miles) away. "The patient-site assistant had no previous experience with ultrasound and did not have a healthcare background," Adams said.
The sonographer operated a mock probe and touchscreen monitor, which displayed the US interface to remotely control all settings and fine movements of the transducer.
The conventional exams were read independently from the telerobotic exams, and the results were encouraging. Ninety-two percent of the organs visualized using conventional sonography were also sufficiently visualized robotically. A paired sample t-test showed no significant difference between the two modalities in measurements of the liver, spleen and diameter of the proximal aorta.
Telerobotic assessments overestimated distal aorta and common bile duct diameters while underestimating kidney lengths (p-values <0.05), but these differences were considered clinically insignificant. Five pathological findings were successfully identified using both modalities. Three pathological findings were seen only through conventional methods while two were seen only telerobotically.
According to Adams, sonographers and the patient-site assistant readily developed effective communication strategies with each other. Though it was slightly more challenging to position the probe for an optimal view for measurement, they successfully coordinated gross placement of the robotic arm. He noted, "The average duration of the telerobotic examinations was longer than that of conventional examinations, though the duration continued to decrease as sonographers gained experience using the telerobotic system."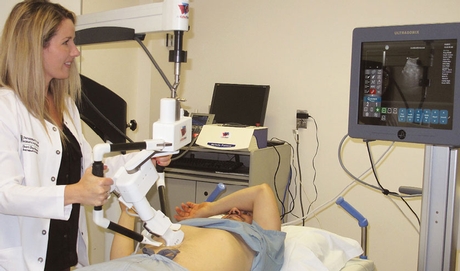 Following the exams, all patients agreed they would be willing to undergo a telerobotic examination again. They were comfortable communicating with the sonographer using the video conferencing system and were comfortable with the fact that a sonographer at a distant location was controlling the US probe.
Looking ahead, Adams and his team have begun recruiting subjects for a new study assessing the potential for telerobotic US use in routine obstetrical studies. They are also deploying two additional telerobotic US systems in remote communities in Saskatchewan to be serviced by sonographers at the group's central US clinic. "We believe a network of remote US clinics will fill an unmet need in providing timely access to ultrasound services in rural, remote or low-volume centers," said Adams.