Texas Medical Center Transitions to MRI in Diagnosing Children with Appendicitis
Because early appendicitis in children can be challenging to diagnose, most practices use a CT scan if an initial ultrasound (US) proves equivocal. But Texas Medical Center (TMC) has had such success getting children to hold still long enough to get good MR images, the facility has entirely replaced CT with MRI for this purpose.
A Tuesday presentation on the hospital's transition offered guidelines on how to make a familiar diagnosis using a less familiar imaging modality.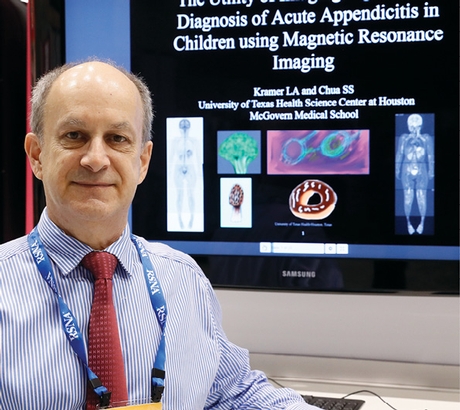 "It's possible to place a pediatric patient in an MRI environment and obtain high-quality images in almost all patients, which surprised me," said Larry Kramer, MD, professor of diagnostic and interventional imaging at the University of Texas Health Science Center at Houston.
Challenged by his department chair to reduce radiation exposure in children, Dr. Kramer's team used a combination of a rapid free-breathing protocol and an algorithm to correct for motion to produce images that diagnose appendicitis just as accurately as CT. In deference to the requirements of the emergency department (ED), the protocol does not use either oral or intravenous contrast agents, nor does it require sedation.
The full study can take anywhere from 10 to 30 minutes depending on the size of the child. The protocol is designed for children as young as four years old.
"We don't ask them to do anything except hold still and breathe normally," Dr. Kramer said. So far, 95 percent of the studies performed under the protocol have yielded diagnostic quality images.
Identifying the Elusive Appendix
Some centers that use MRI for appendicitis diagnoses use two-plane protocol, but for now, TMC is taking images on coronal, sagittal and axial planes, because two planes often aren't enough to find an elusive appendix, Dr. Kramer said.
However, learning to read the studies initially presented challenges. "Residents and other faculty and myself were struggling with being able to identify the appendix, because it's a small structure in a large area with a lot of other bowel loops and structures," Dr. Kramer said.
Image readers who couldn't immediately identify the appendix would look for secondary signs of appendicitis, but those often aren't present in early stages and readings can result in false negative findings. However, over time, Dr. Kramer began to identify novel descriptors for identifying and characterizing acute appendicitis, which aids in disease pattern recognition.
His presentation included images that illustrate those descriptors, including a "spectacle" pattern that indicates a looped or kinked appendix and a "dripping candle wax" pattern that indicates fluid flowing away from the appendix.
Dr. Kramer estimated that it took about six months for him to learn to detect the appendix consistently on MR images, and that same length of time to determine the signs of a false negative. "The learning curve was probably over 50 cases," he says.
TMC has used the MR technique in almost 300 cases since switching protocols in 2013. Dr. Kramer estimated that residents still fail to identify the appendix in 10 to 15 percent of cases, but he expects further improvement with more practice.
TMC has not encountered any false positive diagnoses, and has been able to use the MR protocol both to rule out appendicitis and to identify other abdominal problems, such as mesenteric aneditis, which usually subsides without treatment.