Robotic Navigation Systems Aid Complex Intervention Procedures
Even the most experienced interventional radiologists can improve theirperformance in complex interventions by using a robotic navigation system, according to research presented Tuesday.
Such systems can improve the workflow of complex CT-guided, minimally-invasive ablation procedures and diagnostic punctures in terms of precision and intervention time, according to findings presented by Arman Smakic, MD, a third-year resident at the Institute of Clinical Radiology and Nuclear Medicine University Medical Center in Mannheim, Germany. The system also offers the advantage of eliminating radiation exposure to the performing physician, he said.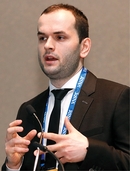 The study was conducted on 55 patients between September 2015 and March 2016 at the Institute of Clinical Radiology and Nuclear Medicine University Medical Center.
A novel, commercially-available robotic assistance device was evaluated for CT-guided interventions compared to standard manually performed CT-guided interventions in terms of precision, radiation exposure and intervention time. Evaluations were performed with regard to complexity (in-plane vs. out-of-plane interventions) and anesthesia type (general vs. local anesthesia).
The results showed that compared to manual placement, the use of a robotic assistance device in complex out-of-plane CT-guided interventions under general anesthesia allows probe placement with high precision and reduces intervention time with no increase in exposure to radiation to the patient and no radiation for the physician, Dr. Smakic said. In less complex in-plane punctures, no advantages concerning intervention time and radiation dose were demonstrated, while precision analysis showed small advantages, he said.
"We were surprised by the very high precision — especially by the very low number of necessary needle replacements — even if we expected solid results since the system is a quite well-engineered product," Dr. Smakic said. "The most important finding is that even experienced interventional radiologists canimprove theirperformance in complex interventions using a robotic navigation system."
In addition to benefitting the patient and physician, the hospital profits from faster intervention, which is an economic benefit, Dr. Smakic said.
"Of course, this argument can only be accepted if the number of complex interventions is high enough so that the benefit can refund the investment," said Dr. Smakic.
It's difficult to say what robotic navigation means for the future of radiology, but there is a good deal of potential, Dr. Smakic said.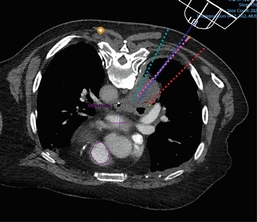 "Currently, robotic navigation systems can only support and improvealready existing skills," Dr. Smakic said. "They assist the interventional radiologist in order to perform already established interventions.
"Further development of navigation systems may allow radiologists to strike out on new paths and perform interventions that were considered to be impossible," he said.