New Hands-on Prostate MRI Course is a Hit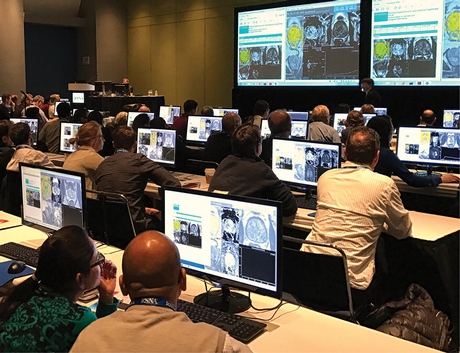 A new course on prostate imaging is among the many popular hands-on courses being presented at RSNA 2016. The course, using the American College of Radiology's MRI Prostate Imaging Reporting and Data System (PI-RADS) was introduced on Monday and filled to capacity.
The course was co-organized by Jelle Barentsz, MD, PhD. He and a team of 10 international experts delivered interactive, individualized training on PI-RADS using 50 computers, which allowed optimal training of 30 cases from daily practice.
"I have never seen so many enthusiastic and active participants," said Dr. Barentsz, professor of radiology and chair of the Radboud Prostate MR-Referencing Center of Radboud University Medical Center, the Netherlands. "MRI of the prostate is booming, which shows the enthusiasm and need for training PI-RADS. More and more urologists are requesting prostate MRIs, and they expect good quality."
The course repeats Tuesday through Thursday, from 8 to 10 a.m.
Prostate MRI (Hands-on)
Tuesday 8–10 a.m. RCA31Room S401AB
Wednesday 8–10 a.m. RCA41Room S401AB
Thursday 8–10 a.m. RCA51Room S401AB