AODR Presentation Dedicated to Singleton
The Annual Oration in Diagnostic Radiology was dedicated to the memory of Edward B. Singleton, MD, a beloved teacher and luminary radiologist recognized for his extensive research of rare pediatric disorders.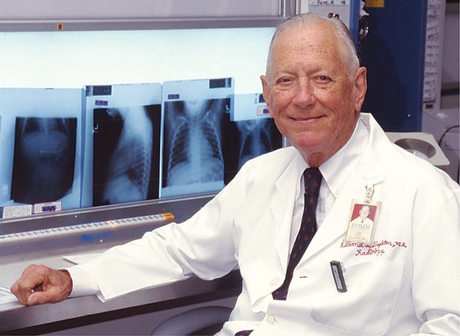 A Texas native, Dr. Singleton earned his medical degree at University of Texas Medical Branch in his hometown of Galveston. He trained as a radiologist at the University of Michigan in Ann Arbor before returning to Texas in 1953 to become the chief of radiology at St. Luke's Texas Children's Hospital, where he remained his entire career. In recognition of his contributions and devotion to pediatric radiology, the Edward B. Singleton Endowed Chair in Pediatric Radiology was established at Texas Children's Hospital in 2012.
A pioneer in the field of pediatric radiology, Dr. Singleton authored or co-authored more than 130 scientific manuscripts, 14 book chapters and three textbooks. He served as a clinical professor at the University of Texas in Houston and professor of radiology at Baylor College of Medicine in Houston. He was twice recognized for teaching excellence by Baylor College of Medicine.
During his illustrious career Dr. Singleton was awarded gold medals by the American College of Radiology, the American Roentgen Ray Society, RSNA, the Society of Pediatric Radiology and the Texas Radiology Society. He delivered the RSNA Annual Oration in Diagnostic Radiology in 1980.
Dr. Singleton died January 10, 2015, at 94.