New Horizons Lecture Presented Today
Cancer care — along with imaging — is on the brink of profound change, according to Hedvig Hricak, MD, PhD, Dr (hc). Over the last quarter century, researchers have been assembling the biological syntax and lexicon that are now starting to shape modern oncology.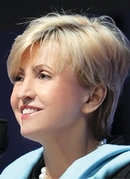 Shifting public expectations and technological innovations are also intensifying progress toward precision medicine. In the next 10 years, radiologists will be able to take advantage of new molecular imaging probes and techniques as well as computer tools for pattern recognition, deep learning and artificial intelligence (AI). These new techniques and tools will put imaging at the center of the evolving paradigm of precision oncology, offering an unprecedented opportunity to once again reshape and enhance the specialty.
Dr. Hricak will deliver the New Horizons Lecture "Beyond Imaging – Radiology of Tomorrow" in Tuesday's plenary session.
As a specialty of technological innovations, radiologists have always embraced new technologies. But radiologists are also key participants in patient-centered care. In the last 50 years, the specialty has gone through a number of transformations, always emerging as more clinically essential than before. In the years ahead, radiologists must and will continue to evolve — becoming not only stewards of the ever-increasing demand for imaging and image-guided therapies, but also highly valued clinical consultants and innovators in the era of precision medicine.
Dr. Hricak is chair of the Department of Radiology at Memorial Sloan-Kettering Cancer Center, professor of radiology at Weill Cornell College of Medicine, and professor at Gerstner Sloan-Kettering Graduate School of Biomedical Sciences, all in New York. She is a renowned genitourinary imaging authority who helped develop the use of MRI and CT for gynecological cancers and the use of MRI for prostate cancer. Dr. Hricak is a member of the National Academy of Medicine and has received numerous honors for her research and her efforts to promote international education and collaboration in radiology. She received the RSNA Gold Medal in 2015 and served as RSNA president in 2010.