The New Healthcare Team: Exhibitors Offer Solutions for Physician Collaboration: HealthMyne Partners with Radiologists to Improve Patient Care
When radiology professionals visit the technical exhibit halls at RSNA 2016, they will have the opportunity to visit nearly 660 companies, most offering products and services in line with this year's theme, "Beyond Imaging."
Indeed, as healthcare evolves and as the field quickly moves from a fee-for-service to a value-based model, the challenge to find radiology's role as a partner in the care of the patient becomes more urgent.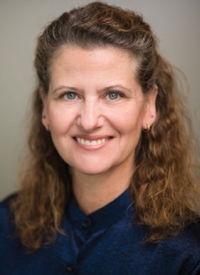 To many, the future of radiology is simply stated: Find more innovative ways to assist referring physicians in the care of patients, and do it more efficiently.
"Right now, radiologists and oncologists agree that the radiologist cannot always provide the information the oncologist needs to do their job," said Dr. Linda Peitzman, Chief Medical and Informatics Officer for HealthMyne. "They simply don't have the time."
The three-year-old HealthMyne is working to move radiology beyond imaging to enhance patient care. The company has employed radiomics to develop its Quantitative Imaging Decision Support (QIDS)™ platform, intended to improve productivity on the part of the radiologist, leverage clinical data to provide greater decision support, reduce the cost of care and provide a platform so researchers have much more data to mine in the future.
As Peitzman pointed out, today many radiologists sit in front of anywhere from two to five screens, reading images and searching for data from an electronic medical record (EMR). It can take as many as 10 to 15 clicks before the radiologist is in a position to dictate textual, non-structured messages to the oncologist. (Although HealthMyne expects to eventually offer its QIDS to many subspecialties, it has started with oncology.)
However, HealthMyne's platform can launch directly into the radiologist's usual workflow – with the standard PACS – and integrate with EMR data, chemotherapy data and radiologic data.
"The radiologist doesn't have to do anything additional," Peitzman said. "Without affecting the workflow or adding any time, metrics like density, mass, volume and 150 others considered to be radiomic data about a lesion are captured."
Likewise, any information about the propagation of tumors the patient might have had in the past is captured as well. At the same time, QIDS algorithms take data that underlies the CT and obtains appropriate measures on areas of interest.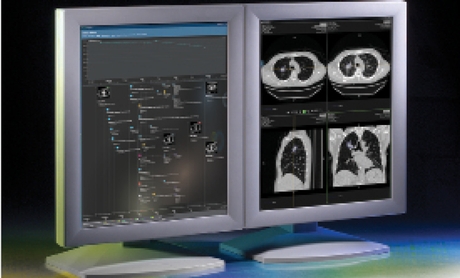 As a consequence, radiologists are not only more productive and efficient in their work, they are able to pass on more information to the consulting oncologist, including information on tumors in parts of the body other than those being examined in the current study.
"The thoracic radiologist might have read the CT scan of the chest, but there may be metastic lesions in the lymph nodes or even the brain," Peitzman noted. "HealthMyne can take the data from all those studies and roll it into a single report that is updated every time a study is read."
All of which leads to greater precision in healthcare.
Downstream, the data is stored so that a healthcare organization as a whole can identify patients for clinical research studies, finding cohorts and trends in how patients may be treated, and enhancing the quality of care going forward.
HealthMyne's QIDS platform accomplishes three objectives that all radiology-related technologies aspire to in today's healthcare environment:
It allows the radiologist to be more productive and efficient,
It delivers more information, often in real time, to the consulting physician, leading to precision medicine, and
It creates a data bank that can later be used in larger clinical research studies and to cite trends that lead to enhanced patient care.
"Our system takes time and cost out of the system by automating the workflow of the radiologist," Peitzman said. "You know more about the patient, and that really impacts their care."
For more information on the RSNA Technical Exhibits, see the RSNA 2016 Meeting App, RSNA.org/ExhibitingCompanies and the Technical Exhibits Guide.