Electronic Tools Connect Radiologists with Patients
In this era of consumer-driven healthcare, patient portals, online health resources and social media, radiologists must use such tools to provide personal and patient-friendly services and use a variety of means to connect with patients.
Harnessing the power of the Internet and social media to make radiology more patient centered was the topic of Monday's RSNA Public Information Committee-sponsored session, "Tweet This: How to Make Radiology More Patient Centered."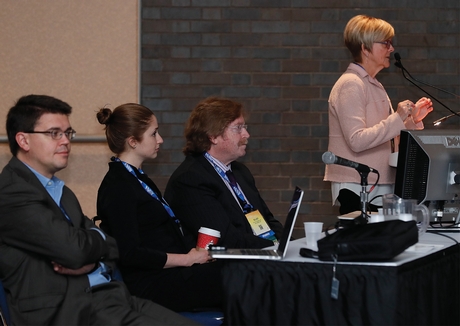 Patient-centered care is not a new idea, but the principles were reinforced in the 2001 Institute of Medicine report, "Crossing the Quality Chasm: a New Health System for the 21st Century," said presenter Susan John, MD, chairman of Diagnostic and Interventional Imaging and professor of Diagnostic Imaging and Pediatrics at Memorial Hermann Hospital in Houston.
"Since then, the concept of customized patient care that honors the patient's values, preferences, and needs has become the guiding principle of high-quality care in diagnostic and interventional imaging practices," Dr. John said. "Personalized interactions between members of the healthcare team, patients and families are what define patient-centered care."
These interactions can occur in many ways, depending on the type of imaging facility, the imaging procedure being performed, and the desired outcome of the communication. For example, Dr. John's institution hosts an "Ask the Imaging Expert" website encouraging patients to post general questions about imaging procedures.
Key to creating a patient-centered culture is teaching medical students, residents and fellows how to keep the patient as the focus during their care, which includes education on the importance of communicating with patients compassionately and effectively.
The importance of accurate, well-written radiology reports has been elevated to a new level with the advent of patient portals through which patients can directly view their reports.
"Electronic communication tools are becoming increasingly valuable as methods of information transfer between patients and physicians," Dr. John said. "In the future, I anticipate that patient portals and facility websites will develop even more elegant ways to facilitate high quality patient experiences in radiology."
Social Media Drives Patient Engagement
Using social media to strengthen radiology is critical, said Whitney Fishman Zember, MBA, managing partner of innovation and consumer technology at the New York City-based MEC, a leading advertising media planning agency with expertise in digital media, social media marketing and more.
"Social media is a powerful tool for any brand or business when it comes to driving consumer engagement, relationships and conversation," Zember said. "It is no different for radiology practices seeking stronger relationships with their patients — and potential patients — and/or to market their services."
Social media allows practices and doctors to grow awareness of their offerings, engage in dialogue of patients and move from being simply a service to a trusted source or advisor. It also an outlet where consumers go to find trusted help, as well as vent their frustrations, Zember said.
"Therefore, it will continue to be a platform radiology can use not only to monitor consumer sentiment and opinions, but also a place where doctors and practices can create sources for consumers to rely on, converse and connect with, and build relationships outside of the hospital or doctor's office," Zember said.
Websites and social media specific to radiology — including the RSNA/ACR patient information website, RadiologyInfo.org, was discussed by presenter, Elliot K. Fishman, MD, professor of Radiology, Oncology, Surgery and Urology at Johns Hopkins Hospital in Baltimore.
A good radiology website is one that knows its audience, Dr. Fishman said. For example, RadiologyInfo.org offers a library of resources for patients including information on how various imaging procedures are performed optimized for patients and their families.
"The key to a good website is to know your target audience. Is it patients? Is it referring doctors? Is it for other radiologists?" he asked. "Only when you know your intended audience can you make that decision."
Many websites can be used to engage patients, but Dr. Fishman emphasizes that users should only view those from a trustworthy source.
"Patients want accurate and unbiased data about different procedures and exams," he said. "Sites like RadiologyInfo.org are excellent."