Dunnick is R&E Foundation Chair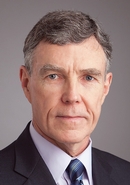 N. Reed Dunnick, MD, is the chair of the RSNA
Research & Education (R&E) Foundation Board of Trustees.
Dr. Dunnick is the Fred Jenner Hodges Professor of Radiology at the University of Michigan Health System in Ann Arbor, Mich., where he has been a faculty member since 1992.
A member of the Board of Trustees since 2013, Dr. Dunnick advocates for the Foundation's mission to improve patient care through the financial support of research and education in radiology.
Dr. Dunnick has been an active RSNA member since 1987, serving on the Board of Directors from 2006 to 2014, and as president in 2014. He has also served on the Scientific Program Committee, Research Development Committee, Education Council and the Grants Program Committee.
A recognized leader in the radiology community, Dr. Dunnick is a past president of the American Roentgen Ray Society and the Society of Chairs of Academic Radiology Departments. He has served in leadership roles with a number of other medical societies and organizations, including the American Board of Radiology Foundation and the American College of Radiology, where he served as vice president from 2008 to 2009.
Dr. Dunnick supports the Foundation as a Silver Centennial Pathfinder, Presidents Circle member and Platinum Visionary donor.
The Board of Trustees also appointed Stamatia V. Destounis, MD, Rochester, NY; Umar Mahmood, MD, PhD, Charlestown, Mass.; and Vijay M. Rao, MD, Philadelphia, to the Board.
To learn more about the Foundation and its Inspire-Innovate-Invest Campaign visit the R&E Foundation booth in the Connections Center or RSNA.org/Foundation.