Smartphone Technology Could Enhance the Diagnosis of Lymphoma
Researchers may have found a way to diagnose lymphoma in patients who live in remote, low-income areas like sub-Saharan Africa using modified smartphones.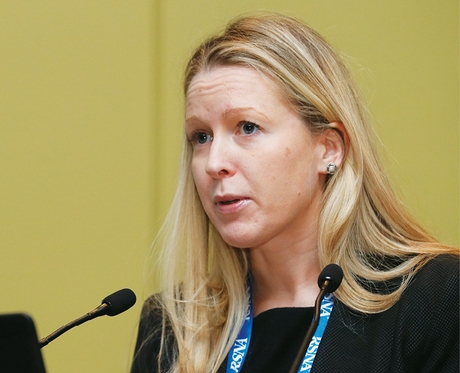 The research, presented Wednesday by Aoife Kilcoyn, MBBCh, of Massachusetts General Hospital (MGH), shows promise for empowering resource-poor communities with complex laboratory tests.
"It's cheap, accessible, easy to do and easily replicable," Dr. Kilcoyn said.
Employing fine-needle aspiration, a thin needle can be inserted into abnormal-appearing tissue to obtain a sample. The sample is placed in saline and immunolabeled with microbeads, then a photo can be taken with a smartphone fitted with a lens attachment that creates a hologram. The image is then sent to a remote server via the cloud.
Within as little as an hour, a diagnosis can be delivered indicating the presence (or not) of lymphoma and the likely treatment. The total cost of the procedure could eventually be less than $1.
"In Africa the physician-to-patient ratio is not that great," said Divya Pathania, PhD, a study co-author and post-doctoral research fellow at the MGH Center for Systems Biology. "Often, by the time a patient gets screened, it is quite late."
The team analyzed eight tissue samples obtained with the technology and compared the results with standard technology.
"Our technology was 100 percent accurate," Dr. Kilcoyn said.
She said the team hopes to expand the clinical trial deploying the technology in Botswana within the next two years. They have already identified a hospital and tested the strength of the internet connection to assure the process won't be hampered by insufficient technology.
If successful, the new technology could help treat patients who may live hundreds of miles from a hospital, she added.
"We wanted to generate a mechanism for diagnosing a cancer early and thus triaging patients into, for instance, those who may need chemotherapy and those who may need treatment for infections," Dr. Kilcoyn said.
While the initial study involves lymphoma, she said the same technology could be used to sample other kinds of cancer as well.
Hyungsoon Im, a study co-author, said this advance in radiology would not have been possible without enhancements over the last few years in smartphone technology. "This has a great future," Im said.