Stay Connected Through Social Media at #RSNA16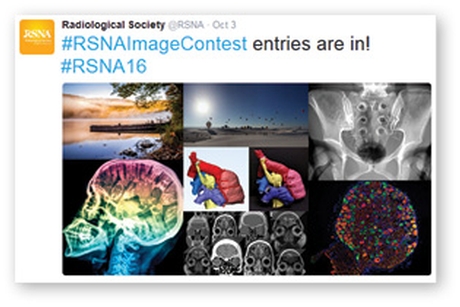 Join — or start — the conversation on social media at RSNA 2016. Follow RSNA on Facebook, Twitter, Instagram and LinkedIn to get the latest updates, connect with colleagues and share your favorite meeting moments.
Include the official RSNA 2016 hashtag, #RSNA16, to connect with fellow attendees or to see what other attendees are saying throughout the meeting. Tracking your steps? Tweet the number of steps you've taken each day on #RSNAWalkingChallenge and you will be entered to win one of several fitness-themed prizes.
In addition, RSNA 2016 will feature two "tweetups," which bring together Twitter users for a face-to-face gathering. A general tweetup is scheduled for 1-1:30 p.m. on Sunday. And a Resident & Fellow Committee Tweetup is happening 3:30-4:30 p.m. on Tuesday. Both events take place in the Discovery Theater, located in the Connections Center, Lakeside Center East, Level 3.