From Herbs to Hops, McCormick Place Rooftop Garden Yields a Healthy Harvest
By Mary Henderson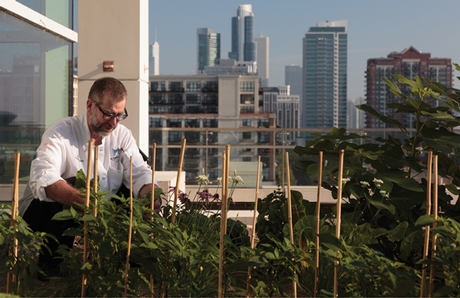 Wondering where some of the produce you're eating this week at McCormick Place restaurants is grown? The answer just may be up on the roof.
Sitting atop the McCormick Place convention center is the Midwest's largest soil-based rooftop garden. Now in its fourth year, the garden covers three-quarters of an acre and produces up to 8,000 pounds of vegetables and herbs — from carrots, tomatoes and kale to peppers, herbs and beans — for the convention center's catering operation SAVOR...Chicago.
While the garden mainly yields produce during warm weather, the staff planned to extend this year's growing season by planting cool weather crops like kale, spinach and collard greens for McCormick Place restaurants.
But there is one sure way for RSNA 2016 attendees to sample the rooftop garden produce. Last summer's crop of 70 hops plants were used by Brickstone Brewery to create the McCormick Place Everyday Ale, being served on beverage carts in the Connections Center.
Getting the Garden Off the Ground
The initial transition to the vegetable garden meant removing the cactus-like sedum covering the roof and choosing plants that can thrive in the wind and weather conditions 300 feet above the ground.
"SAVOR approached us about creating a rooftop garden on McCormick's green roof, which was covered with low-maintenance perennials," said Kelly Larsen, director of operations for Windy City Harvest, the urban agriculture program of the Chicago Botanic Garden.
"We amended the soil to support vegetable production by adding compost and rock minerals," Larsen said.
McCormick Place found the perfect gardening partner in the Botanic Garden's Windy City Harvests urban agricultural program, which offers a variety of education and job training programs in collaboration with City Colleges of Chicago.
Windy City provides all materials, a full-time coordinator, three interns per summer and a five-member operations crew for harvest days at the garden.
"Interns are apprentices in our certificate program in sustainable urban agriculture and the operations crew comes from a transitional job training program," Larsen said.
Once harvested, produce is washed and transported via elevator to the kitchen of Chef Michael Kingsley who works with staff to create the dishes served to roughly three million visitors a year in McCormick's cafes and markets, banquet halls and private dining rooms. Chilled carrot soup, quinoa salad, roasted eggplant spread and tomato and basil tartlets are just a few of the dishes Chef Michael has created using vegetables freshly harvested on the roof.
"It is fantastic produce and it's amazing to see what the chef can make with vegetables that are just a day or two from being picked," said Douglas Bradley, vice president of culinary at SAVOR... Chicago.
In addition to the main terrace gardens — each filled with just four inches of soil — container gardens were added this year to provide greater crop flexibility.
"We'd like to bring back some heirloom plants such as the Plumb Cider Apple and Deer Tongue Lettuce to promote biodiversity," Bradley said. "We also hope the container gardens inspire visitors to plant their own container gardens at home."
Larsen said it's no small feat for a catering operation as large as SAVOR to incorporate an unpredictable influx of seasonal produce into its weekly food preparation.
"It takes a while to figure out how to use hundreds of pounds of green beans all at once," Larsen said. "This year, literally everything grown on the roof was used."
Three hives of honey bees and 20,000 red wiggler worms that compost unused plant parts are also located on the roof, earning McCormick's garden high marks for sustainability.
Going forward, Bradley hopes not only to see the garden expand with a variety of new plants, but also for SAVOR to establish more local connections like its partnerships with Chicago Botanic Garden's Windy City Harvest and Brickstone Brewery.
"It's more important from a business perspective to be immersed in the local economy," Bradley said. "We'd rather put money back into the community than spend it elsewhere."
McCormick Place Eateries Add New Dining Options
Along with favorites including Starbucks, Jamba Juice, Connie's Pizza, McDonalds, Ambrosia Café, Kosher Express, 23rd Street Café, Lakeside Café, Market Cart and more, new dining options have been added to the menu this year at McCormick Place:
Chicago Beef Sandwich
Grinders Toasted Subs
Heartland Burger Company
Luzita's Street Style Tacos
Midwest Melt Grilled Cheese
New for 2016: Beverage Carts
Visitors to the Connections Center and Grand Concourse North Lobby can keep an eye out for beverage carts serving:
Metropolis Third Coast Roast Coffee
Everyday Ale (beer); wine