Annual Oration in Diagnostic Radiology Presented Today
Healthcare Transformation: Driving Value Through Imaging
In the evolution from fee-for-service healthcare to value-driven population health, healthcare systems must learn to embrace patient-centered, value-focused practices, and the leaders of these systems must be committed to building these cultures, according to Vivian S. Lee, MD, PhD, MBA, who will present today's Annual Oration in Diagnostic Radiology, "Healthcare Transformation: Driving Value through Imaging."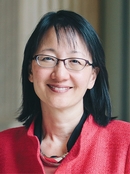 As a centralized core of experts informing care pathways and practices, radiology must play a key role in both understanding and defining value for providers and their patients, said Dr. Lee, a professor of radiology, senior vice president for health sciences, dean of the school of medicine and CEO of University of Utah Health Care.
At the University of Utah and elsewhere, engaged radiologists are tapping into their health systems' culture of value to evolve the way providers engage with imaging specialists to improve patient expectations, and create real and measurable cost efficiencies. The transformation of healthcare requires engaged radiologists to produce more cost effective, quality outcomes.
Dr. Lee serves on the Council of Councils of the National Institutes of Health and the Administrative Board of the Council of Deans for the Association of American Medical Colleges. Dr. Lee is a past president of the International Society for Magnetic Resonance in Medicine.
Dr. Lee served on the RSNA Refresher Course Committee as cardiac chair and cardiovascular chair. She received the Radiology Editor's Recognition Award for reviewing with distinction in 2003, 2005 and 2007.