Personalized Breast Cancer Screening May Improve Outcomes, Reduce Exposure
Keynote presentations by Rachel F. Brem, MD, director of Breast Imaging and Interventional Center at George Washington University, and Maxine S. Jochelson, MD, director of Radiology, Breast and Imaging Center, Memorial Sloan Kettering Cancer Center bookended seven presentations on multimodality screening during a Sunday morning science session on breast imaging.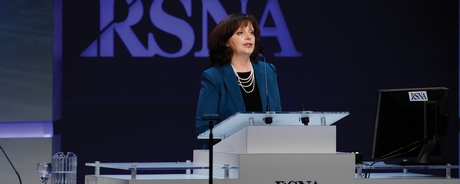 "Ninety percent of breast cancer patients are cured of the disease based on five-year survival rates," Dr. Brem said in her keynote kicking off the session. "Both treatment and screening have impacted the reduction in mortality rates."
She said going forward we must now look at the intensity of the cure offered to breast cancer patients and evolve to a more personalized, risk-based approach to screening in order to "deliver better, safer and less costly care."
Women with dense breasts, a personal history of breast cancer, or with a suspicious lesion diagnosed as atypia all require specific approaches to screening and surveillance, she added.
For intermediate-risk women, or those with a lifetime risk of breast cancer that is 12 to 20 percent higher than the average woman, Dr. Brem advocated for annual screening after age 40 with both mammography and ultrasound.
"Mammography can find upwards of 95 percent of cancers in women with fatty breasts. However, a third of cancers in women with dense breast tissue are hidden," she said. "It's a perfect storm. Women with dense breast tissue have a two- to six-fold higher risk of breast cancer but cancers are harder to detect in dense tissue."
In a clinical trial of 15,000 women, screening with both mammography and ultrasound detected 26 percent more clinically important breast cancers.
"It's not one size fits all for breast cancer screening," Dr. Brem said. "We must look at our expanding armamentarium of technologies to maintain and improve upon our 30 percent reduction in breast cancer mortality."
Dr. Jochelson ended the session with her keynote on screening high-risk patients and whether women who carry the BRCA1 gene mutation benefit from screening mammography.
"ACR guidelines for women with a 20 percent or higher risk of breast cancer suggest an MRI every year, which was a terrific starting point," she said. "Now we've learned more and are able to fine-tune that."
She reviewed the results of five prospective studies of MRI and high-risk women addressing the similarities between BRCA1 and BRCA2 carriers, whether MRI screening improves mortality reduction, how often to screen, and whether or not to include mammography.
"BRCA1 and BRCA2 are two different diseases that should be screened differently," she said. "BRCA2 affects young patients and is not as easily detected at BRCA1."
In a study of high-risk women screened every six months alternating between MRI and mammography, 12 of 13 cancers in patients with the BRCA1 gene mutation were detected on MRI but none were identified on screening mammography.
"Mammography was of no value to women with BRCA1," she said. "For these patients, cutting back on mammography would not affect cancer detection and would reduce radiation exposure to the patient."
Based on the findings, Dr. Jochelson said that eliminating screening mammography in BRCA1 carriers should be strongly considered, particularly in women under 40. She suggested screening BRCA1 carriers yearly with MRI from age 25 to 40 and then every six months alternating between MRI and mammography beginning at age 40.
"Screening every six months with MRI may be better," she said, but acknowledged that insurers are unlikely to reimburse for two MRI exams per year.
As an alternative, she suggested contrast-enhanced digital mammography (CEDM) as a replacement for routine screening mammography. A science session on contrast mammography and CT breast imaging (SSJ01) will be held Tuesday from 3 to 4 p.m. in the Arie Crown Theater.