Gaining Broader Perspectives Beyond Imaging
Radiologists' daily practices send ripple effects across the healthcare landscape, just like a pebble dropped in a pond, according RSNA President Richard L. Baron, MD.
"We should congratulate ourselves on the hard work and creativity that has pushed our specialty to this level," Dr. Baron told the packed audience in Arie Crown Theater for Sunday's opening session. "Yet we have to keep moving forward," he continued.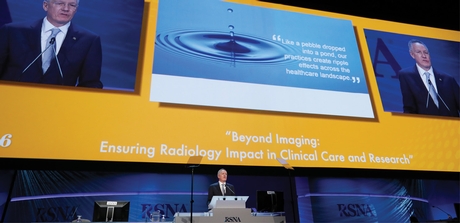 In his President's Address, "Beyond Imaging: Ensuring Radiology Impact in Clinical Care and Research," Dr. Baron emphasized the importance of seeking new ways to move the specialty forward—beyond imaging. He focused on four ripple effects that radiologists' daily practices have on healthcare and the patient experience: delivering value in the face of changing reimbursement schemes, working collaboratively as part of the healthcare team, continuing to innovate, and focusing on patients. While calling for a shift in the way radiologists practice, he suggested radiologists can once again become renaissance physicians who truly know clinical medicine.
"This shift does not require revolutionary changes to our practices and culture," he said. "I see it more as a return to basics.
While radiologists have become adept at creating and processing thousands of images, that skill has come at a cost, he said. "The best radiologists have learned to combine science and art," he said. "But most of us focus only on the image, practicing an extreme of science at the expense of art."
Instead, he suggested spending more time learning from referring physicians and teaching them about new developments in imaging, which will add value and solidify radiologists' position in the medical community.
To bring radiologists back to a time when they were heralded as renaissance physicians, they must return to the basics, Dr. Baron said. Developing stronger clinical knowledge will allow them to provide more meaningful consultation. By better understanding the answers referring physicians and patients need, radiologists can provide better solutions. Those improved reports would incorporate personal history and advanced medical knowledge to reach more valuable conclusions.
One way to achieve this is by adopting a subspecialty-based practice in order to mirror the practices of referring physicians, providing chest, musculoskeletal and abdominal imaging practices. Additionally, it is important for radiologists to seek face-to-face interactions with referring physicians, a practice that has become rare in the digital age.
The result, he said, is a decentralized team and less collegial work environment. Dr. Baron applauded departments that have flipped that model, explaining that the University of Colorado, the University of Chicago and Johns Hopkins have all moved radiology reading rooms closer to the consulting clinicians, and the results have been impressive.
While praising the rapid pace of innovation radiology has set, Dr. Baron reminded the audience that continued meaningful research is critical to continued growth.
"Innovation will drive the future, and the future belongs to those who lead impactful research," he said.
That means radiology research that reaches beyond the radiology journals and community to contribute to the general medical and science community. Radiology has not been adept at this, according to Dr. Baron, and "(we) need to dramatically increase our research focus in this area."
Finally, Dr. Baron turned the focus to patients.
"All of these changes create ripples in the pool of healthcare delivery, but the furthest reaching impact is that on our patients," Dr. Baron said, emphasizing that all of this should be considered through the lens of an improved patient experience.
"The radiology community should make virtually all practice decisions with a focus on what is optimal for the patient rather than focusing on what is convenient, more efficient, or more lucrative," he said.
That starts with the radiology report, according to Dr. Baron. He noted resources such as the RSNA report template library that provide a framework for organizing the findings and ensuring a complete evaluation. And that reorganization around subspecialty practices will enable radiologists to keep up with the "explosion of medical knowledge" and provide optimal answers.
"Every report should be approached and delivered exactly as you and I would want for our family members," he said.
Studies have shown, he said, that when radiologists keep the patient in mind—keeping a photo nearby, for example their accuracy improves.
Reminding the audience of that pebble creating ripples in a pond, Dr. Baron said, "With these changes in place, we will position ourselves and the specialty of radiology as valued resources and indispensable partners in patient care."