2016 RSNA Scientific Assembly and Annual Meeting Program Dedication
Herbert L. Abrams, MD, 1920-2016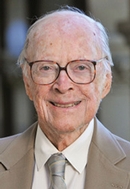 RSNA dedicates The RSNA Meeting Program of the 102nd Scientific Assembly and Annual Meeting to the memory of Herbert L. Abrams, MD. Dr. Abrams, who died Jan. 20, 2016, was a pioneer and renowned authority on cardiovascular imaging, a devoted teacher and a passionate advocate for peace. A founding father of the specialty of interventional radiology, he produced and edited the first comprehensive textbook of this new discipline, Abrams Angiography, which is still in print today.
Born in New York, Dr. Abrams attended medical school at the Long Island College of Medicine and completed his residency in internal medicine at Long Island College Hospital and Montefiore Hospital in New York.
Dr. Abrams completed his radiology residency at Stanford Medical Center, where he later rose to director of diagnostic radiology. In 1967 he returned east to Harvard Medical School and the Brigham and Women's Hospital and Dana Farber Cancer Center where he grew the radiology department and developed an outstanding teaching center. He returned to Stanford in 1985 to focus on research.
Dr. Abrams' growing concern about the health threat of nuclear policies led him to become the founding vice president of the International Physicians for the Prevention of Nuclear War, an organization that was awarded the Nobel Peace Prize in 1985.
Dr. Abrams was married to Marilyn for 73 years. The couple had two children, three grandchildren and three great-grandchildren.