Experts Advise on Alternative Sources for Research Funding
Money has never been tighter for early-career investigators looking for ways to fund their research into cutting-edge radiology technology, according to presenters of a Monday Special Interest Session. The National Institutes of Health (NIH) offers fewer funding opportunities every year. Grant-application success with the NIH reached an all-time low of 16.8 percent in 2013.
"NIH funding is essentially flat, especially if you consider inflation. So the issue is how can we take the great ideas from radiologists to fruition," said Ronald L. Arenson, MD, chair of the radiology and biomedical imaging department at the UCSF and 2015 RSNA president.
Dr. Arenson believes it is time for university researchers to mine the resources of the marketplace rather than more traditional funding sources. But it's not an easy path.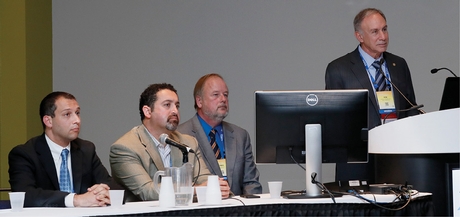 Much like participants of the popular ABC-TV reality show "Shark Tank," in which would-be entrepreneurs pitch their investment ideas to a panel of industry titans, participants in the session "Preparing Radiologists to Jump Into the Shark Tank" pitched ideas to a panel of experts.
T. Rockwell Mackie, PhD, pitched his idea for a radiology advancement – an equine CT imaging scanner called Asto CT – to panelists including Dr. Arenson; Navid Alipour, co-founder of Analytics Ventures; and Scott A. Penner, an attorney specializing in intellectual property protection with Foley & Lardner LLP.
The panelists offered five important tips for researchers looking for paths to research funding in the marketplace.
First, protect your intellectual property. Make sure you and your university have the correct patents in place before you schedule the first meeting with a venture capitalist.
"Intellectual property is a valuable asset for your company and sometimes the only asset you have at start-up time," Penner said. "It needs to be treated as such."
Next, prepare a good elevator speech. Researchers may not always think about how they would explain what they're doing to anybody besides those who speak their own language.
Third, understand where your product fits into the market. When you talk to potential investors, they want a good idea of what the return on their investment would be and why your proposal would be the big hit they're looking for.
Fourth, decide what your role will be. How much time do you plan to devote to this project you're asking somebody to invest in? Will you hire staff to take on some of the responsibilities?
And finally, know how much money you will need.
Following these steps will show potential investors you are prepared and serious about taking your idea to market. But keep in mind, being fully prepared doesn't mean the money will come easily.
"As venture capitalists, in every situation we're looking for a reason to say no," Alipour said, adding the importance of seeing that a person is personally invested in their own idea.
The session was organized by the Academy of Radiology Research, which has proposed a new initiative with the goal of educating imaging investigators about how best to present translational research and technology development ideas to industry and other non-governmental funding sources.