Costochondral Fractures Related to Higher Mortality Rates in Blunt Polytrauma Patients
Patients with costochondral fractures (CCfx's) have a slightly higher mortality rate than thoracic trauma patients with no CCfx's and may require closer examination, according to findings presented in a Tuesday morning session.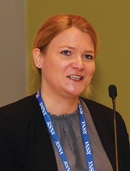 Speaker Mari Nummela, MD, fellow in musculoskeletal radiology at Helsinki University Hospital, shared the results of a recent study comparing the 30-day mortality rate between blunt chest trauma patients with and without CCfx's. She noted that the fractures serve as a marker of high-energy trauma and coincide with a significant number of concomitant, intra-abdominal injuries which may cause complications in patient recovery.
MRI is the preferred modality for detecting isolated CCfx's commonly found in athletes, however Dr. Nummela said that the fractures are also common in other trauma mechanisms and readily detectable via CT when CT study is indicated. Polytrauma patients frequently have pulmonary and mediastinal injuries initially. CCfx's are regularly seen in cases of severe rib cage injury and cause thoracic instability contributing to more serious conditions like the formation of flail chest.
While chest wall treatment is typically conservative, for patients with CCfx's and impaired respiratory function, aggressive respiratory support and analgesia protocol may be necessary. Dr. Nummela recommended paying close attention to the presence of CCfx's and said, "Awareness of the costal cartilage fractures and their impact on rib cage instability might affect treatment decisions."
Dr. Nummela and her team reviewed whole body CT (WBCT) scans from 1,461 patients with a history of blunt force trauma, primarily motor vehicle accidents and falls, in a level one trauma center over a period of 36 months. Thoracic injuries were present in 574 patients, and of those 118 (20 percent) had a total of 226 CCfx's categorized as costochondral, midchondral or costosternal. The most common injuries occurred in costal cartilages of ribs 6 and 7.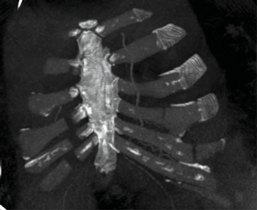 The incidence of CCfx's in all WBCT studies was 8.1 percent and 20.6 percent in thoracic trauma patients. The fractures were more common in blunt chest trauma patients than Dr. Nummela and her team anticipated. "As radiologists, both residents and specialists, we tend to overlook costal cartilage fractures in polytrauma patients," she said, adding, "Especially injuries in the subcostal angle...often remained initially undetected in this cohort."
Multiple bony rib fractures occurred in 96 cases (81.4 percent), and of those, 42 cases had bilateral fractures. While no correlation was found between costochondral calcifications and fractures, Dr. Nummela said calcifications were present adjacent to or along the fracture line for several patients on follow-up CT and may contribute to continued instability of the chest wall over time.
The team also examined data for associated intrathoracic injuries and found 77 cases of pneumothorax, 62 cases of hemothorax and 62 cases of pulmonary contusions. Intra-abdominal injuries were seen in 29 patients. No internal mammary or subclavian artery injuries were located, and acute aortic injury was rare.
The 30-day mortality of patients with CCfx's was slightly higher than patients without CCfx's (7.63 percent compared to 4.61 percent). Traumatic head injury was the most common cause of death during the first 30 days after trauma in the cohort.
Dr. Nummela said the retrospective data collection was time-consuming and labor-intensive yet very educational. She acknowledged that the 30-day mortality between blunt chest trauma patients with and without CCfx's did not prove a direct correlation between the fractures and mortality. "The clinical significance of cartilage fractures alone was difficult to determine," she noted adding, "A follow-up study with a larger sample size could possibly establish a more direct correlation between CCfx's and raised mortality."