Questions Remain as MACRA Deadline Approaches
Radiologists are facing some urgent questions about where they fit under the new radiology payment policy paradigm, said Ezequiel Silva III, MD, vice chairman of the American College of Radiology (ACR) Commission on Economics, during a presentation Tuesday.
With the Medicare Access and CHIP Re-Authorization Act (MACRA) final rule going into effect Jan. 1, Dr. Silva said the main consideration for radiologists is that the patient experience will be an integral component of future payment structures.
"We have to embrace patient experience. It's not just terminology to throw around lightly," said Dr. Silva, a diagnostic and interventional radiologist at the South Texas Radiology Group in San Antonio.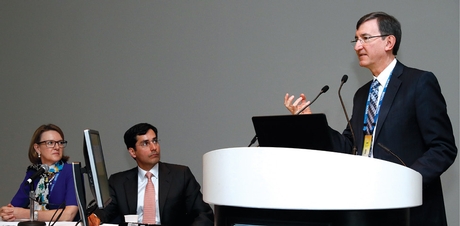 Classification will determine reimbursement schemes
The first step in radiologists' process is deciding whether or not to be classified as patient-facing or non-patient-facing within the final rule categorization. The rule was released Oct. 14, but won't begin affecting payments until 2019. However the performance period under which all physicians will be judged opens in little more than four weeks.
"By mere coincidence, we find ourselves in this room talking about something this complex and yet with that degree of urgency," Dr. Silva said, referring to the 2,400-page regulatory document defining the final rule.
According to the new regulations, individual radiologists qualify as patient facing if they bill more than 100 patient-facing encounters per year. In the group-practice reporting option, at least 75 percent of the collective radiologists must reach the threshold for individual radiologists to qualify the group as patient facing.
While the services to be considered patient facing are still in question, Dr. Silva said it is known that evaluation and management (E/M) coding will qualify. However, it's still not known if procedure codes will be considered patient facing because those codes have yet to be released.
"The implications are not small — this is not a small differentiation for us to make," Dr. Silva said.
Changes present opportunity to improve quality of care
Dr. Silva's presentation was part of a session titled, "Prospering in the Era of Payment Reform." Geraldine B. McGinty, MD, the former vice chairman of the ACR Commission on Economics, spoke about the need to create a culture of high-value, patient-centered care in radiology during her presentation.
"We have an opportunity to improve our patients' outcomes by making sure they get the imaging that they need, and making sure they get the right imaging," said Dr. McGinty, assistant chief contracting officer and assistant professor of radiology at Weill Cornell Medicine, and assistant attending radiologist at New York-Presbyterian Hospital, both in New York.
The session was capped by James A. Brink, MD, chief of radiology at Massachusetts General Hospital in Boston, discussing radiology's role in population health management and the triple aim for health reform — better health for the population, better care for individuals and lower cost through improvement.
"The goal is to keep a patient population as healthy as possible, minimizing the need for expensive interventions such as emergency department visits, hospitalization, imaging tests and procedures," Dr. Brink said.
Read more about this entire session in the February issue of RSNA News.