Image-guided Cryoablation May Offer Alternative to Surgery for Kidney Cancer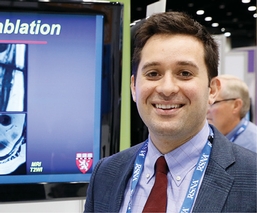 The use of percutaneous image-guided cryoablation on patients with T1 renal cell carcinoma is both effective and safe, according to a scientific poster presentation given Monday.
"The standard of care is to maximize preservation of renal function as much as possible. With this evidence, it's safe to say in the appropriate patient and the appropriate context, percutaneous cryoablation could be a first-line therapy," said presenter Farzad Sedaghat, MD, a radiology fellow at Brigham & Women's Hospital (BWH) in Boston.
While partial nephrectomy is currently the gold standard for treating renal cell carcinoma, the use of image-guided cryoablation "has become a very good alternative over the last 15 to 20 years," said study co-author Kemal Tuncali, MD, also of BWH.
"Not all patients are good candidates for partial nephrectomy," said Dr. Tuncali. "It's a big surgery under general anesthesia." He added that issues like advanced age, comorbidities, and the location of the tumor on the kidney could make some patients unsuitable for surgery.

Image-guided cryoablation, on the other hand, is much less invasive. It involves the insertion of a needle into the tumor and the use of energy (in this case freezing) to destroy the tumor.
Dr. Tuncali said that the technique is known to have good results, "but to be comparable to surgery much longer follow-ups are needed. We have to follow the patients for up to 10 years to make sure there is no recurrence of the disease and to see how patients do as far as survival outcomes."
The purpose of this study was to demonstrate the recurrence rates, medium to long-term survival outcomes, and adverse events in 285 patients with solitary renal cell carcinomas who underwent percutaneous image-guided cryoablation between Aug. 1, 2000, and Dec. 31, 2013.
Tumors (median size 2.5 cm) were ablated using one to seven cryoprobes, while CT or MRI was utilized for image guidance.
The success rate (meaning no tumor recurrence) was 97.8 percent.
"And with ablation, we also talk about secondary technique efficacy in which patients who had a recurrence we retreated with ablation," he said. "And in that case the overall success rate was 99 percent. So, only 1 to 2 percent of patients showed recurrence in intermediate or long-term follow up."
As for survival rates, using the Kaplan-Meier survival analysis, Dr. Tuncali and his colleague found that overall five-year and 10-year survival rates were 90 percent and 79 percent respectively. The 10-year cancer-free survival rate was 94 percent, while the disease-specific survival rate was 98 percent.
Dr. Sedaghat said the risk of hemorrhage from the procedure is often brought up. However, the research he presented showed minimal incidents of hemorrhaging.
"Hemorrhage requiring transfusion happened in less than 1 percent of patients and we never required any other further intervention. It's quite safe," he said.
They reported the overall complication rate was 14 percent. Adverse events (AEs) included nine grade 1 AEs (such as pain or perinephric hematoma), 17 grade 2 AEs (including myoglobinemia and urinary retention), 11 grade 3 AEs (including urinary tract infections, anemia and pneumonia), and three grade 4 complications (CVA, aspiration pneumonia and hypertensive emergency).
"We concluded that percutaneous ablation of T1 renal cell carcinoma resulted in highly successful intermediate and long-term outcomes," Dr. Tuncali said. "This data may help physicians and patients in choosing among various treatment options."
Dr. Tuncali emphasized that the value of this study was its size and that it looked at results over the long-term.
"A number of studies have been published looking at image-guided ablation or radio frequency ablation of kidney tumors, but all have been relatively small series," he said. "The advantage of our study is that it included a larger patient population and included intermediate and long-term follow ups." He added that a randomized control trial comparing the long-term efficacy of ablation to partial nephrectomy would be useful.