Women Climbing the Radiology Career Ladder Still Face Challenges, Barriers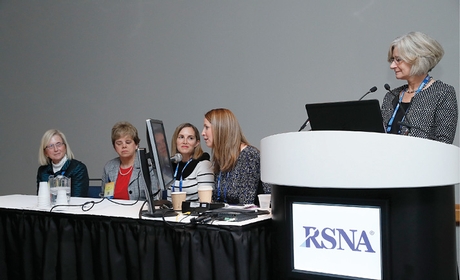 Despite making progress in many areas, women in radiology still face substantial challenges and barriers in shattering the glass ceiling, according to four leading women who discussed the issue at the Wednesday session, "Women in Leadership Roles."
Women traditionally have not asked for what they need to be successful, mainly due to cultural expectations that they should wait to be asked, said presenter Carol Rumack, MD, professor of radiology and pediatrics at the University of Colorado Medical School in Aurora.
Dr. Rumack encouraged women radiologists to ask for what they want in areas including their salary and in securing research support. She stressed that radiology leaders need to encourage women to participate in leadership roles.
"Both women radiologists and radiology leaders need to strongly support the inclusion of women at the highest levels of radiology organizations so that diversity will be a positive force for change," said Dr. Rumack, who is a former chair of the Daily Bulletin and a past president of the American College of Radiology.
Only 25 percent of practicing radiologists are women although 50 percent of medical students are women, Dr. Rumack, who also served as the first female president of the American Association for Women Radiologists. In addition, residency programs tend to pick men as residents, she said.
Define Your Own Success
Because the definition of success is very individual, women should start by defining their specific purpose and goals, said Rebecca Leddy, MD, an associate professor of radiology and assistant director of Breast Imaging in the Department of Radiology at the Medical University of South Carolina in Charleston.
It's important to think positive, she said.
"Most people spend their life looking at their weaknesses," Dr. Leddy said. "Find your strengths."
Common barriers include a lack of purpose or direction, mentorship and support, time, personal and professional life balance or integration and disparity, Dr. Leddy said.
She encourages women to define their purpose and goals, determine their core strengths and value, to be innovative and proactive, stay open to opportunity, be willing to ask for what they want, find mentors and sponsors and get out there and do some networking, she said.
Overcoming Fear of the Unknown
Making a smooth transition from trainee to attending physician is also critical to a successful career path, said Meryle Eklund MD, assistant professor of pediatric radiology at the Medical University of South Carolina in Charleston.
The biggest challenge is fear of the unknown — will the trainee get a job, what will that job be like, and how can one achieve success in a new position, Dr. Eklund asked. New attending radiologists feel as though they must prove themselves in their work, often while adjusting to a new city, institution and lifestyle. That amount of change in a short time can cause anxiety in a junior radiologist.
"All of these questions must be weighed in the setting of an unfamiliar environment that involves a heightened level of professional responsibilities," Dr. Eklund said.
Being aware of upcoming challenges and tackling them in a systematic way is critical She suggests finding a mentor who can give advice on navigating the system and setting achievable short- and long-term goals.
And despite women making strides toward pay equality in recent years, there are still considerable differences in the types of positions held by men and women radiologists, Dr. Eklund said.
Concurring with Dr. Rumack, Dr. Eklund stressed the importance of asking.
"A man may easily lay out his strengths and potentially overestimate his worth to an institution, but females have a harder time with self-promotion and asking for what they want," Dr. Eklund said. "Becoming aware of these differences can help junior female radiologists be well equipped for success from the very beginning of their careers."
In terms of moving up the career ladder, presenter Elizabeth Oates, MD, chairman of the Dept. of Radiology and chief of the Division of Nuclear Medicine and Molecular Imaging at the University of Kentucky College of Medicine in Lexington, suggested a number of approaches women can take in radiology.
Look around your department or workplace, said Dr. Oates, who founded Women in Medicine and Science at the University of Kentucky. Look at specialty and subspecialty organizations for volunteer positions, she said.
"Be willing to do what needs to be done, even if unpleasant," Dr. Oates said. "Show zest and initiative; have, share and execute innovative ideas; complete assignments on time; do a good job; maintain a current CV ready at a moment's notice; be willing to travel, speak and write."