Open-source Software May Help Reduce the Cost of 3-D Printing
3-D printing takes 3-D visualization to another level by transforming digital images from CT and MRI scans into physical models that clinicians can hold in their hands.
But making sure the 3-D "printout" is a perfect representation often has challenges, according to presenter of a Sunday session.
Vendors of commercial 3-D printers for medical applications also sell FDA-approved software that has been rigorously tested to make sure the printer renders the information from the images accurately. But it typically costs thousands of dollars to license that software, so despite the sharp drop in price for the printers themselves, the models can still be costly.

"Medical 3-D printing can get very expensive very quickly," said James Shin, MD, a biodesign and informatics fellow in radiology at Weill Cornell Medical College in New York.
Although free open-source software can greatly reduce the cost of making a medical model, it has to be validated against commercial software. "It's not sexy research, but if we're not sure the software is accurate, it's not going to contribute the way it should," Dr. Shin said.
Dr. Shin presented research that compared Mimics, a commercial software package from the Belgian company Materialise, with 3-D Slicer, a free software program created under multiple grants by a consortium of researchers and programmers. (The 3-D slicer is also being demonstrated this week in the Quantitative Imaging Reading Room, Lakeside Center.)
The research compared a model of facial bones with a model of a cardiac lumen. The facial bone model was based on a single non-contrast 64-slice CT scan of the face, while the cardiac lumen model was based on a single 320-slice contrast-enhanced cardiac CT scan.
The study found that for facial bones and the cardiac lumen, the two programs created physical 3-D models of comparable accuracy and quality. The cardiac models were virtually identical, Dr. Shin said, and the model of facial bones showed only minor discrepancies.
Both types of software interpret DICOM images and do a certain amount of "guesswork" to fill in gaps in the data, but with the density and detail available from most imaging studies today, gaps are minimal.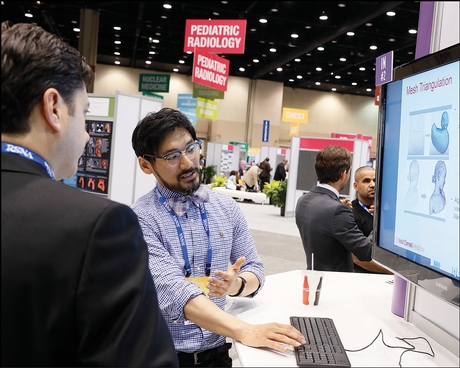 Moreover, commercial software packages often use the same algorithms available in open-source software.
One potential danger in image processing is choosing to "oversmooth" the images — removing artifacts while accidentally taking away some of the small detail that makes a 3-D model accurate and useful.
"At some point you hit the sweet spot where the image is smooth but still accurate," Dr. Shin said.
But it's possible to take the process too far, he added.
Because there is not yet a formal recognized training for using images to print 3-D medical models, this decision may fall to a radiologist, an engineer, or even a graphic designer, depending on the process used to create the model.
"If you don't have a grasp of it as an integrated vertical process, you leave yourself open to errors," Dr. Shin said.